As an activity, kayaking comes with quite a lot of dangers that are not that obvious at first. The fact that it is a demanding, physical sport that you do in the water is enough to see why. Beginners are especially prone to making mistakes, forgetting what needs to be done, and underestimating the potential of the water they plan to paddle in. To be safer as well as to have fun without worrying about what can go wrong, every single paddler needs to wear the right safety gear.
Some of this gear is well-known and makes perfect sense. Life jackets, for example, go without saying but other items do not. It matters a lot where you go kayaking and what kind of kayaking you plan to do. One of the most overlooked pieces of equipment that are necessary for any water sport, particularly in colder waters, is a wetsuit, also referred to as a dry suit. In this article, we talk about its application in kayaking and go over some of the best models currently available on the market.
Obligatory Kayak Safety Gear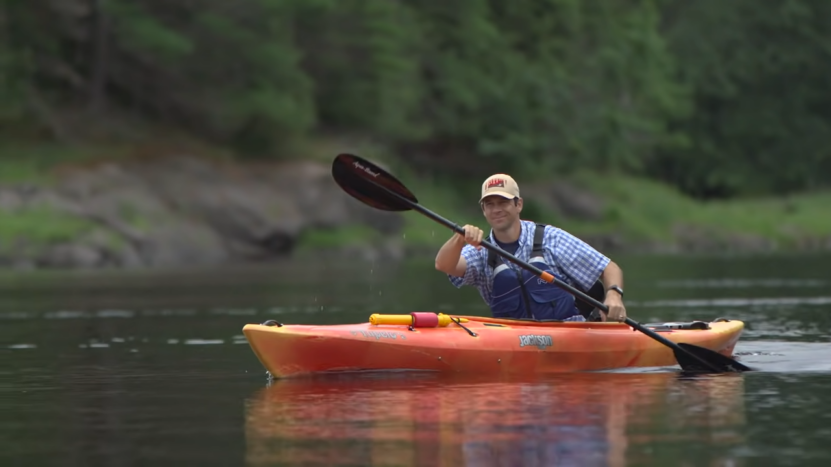 Before moving directly to the wetsuits, here is a quick overview of other gear that every kayaker needs to own. There are several pieces of gear that can help kayakers stay safe while on (and in) the water.
1. Personal flotation device (PFD)
A PFD, also known as a life jacket or a life vest, is a must-have for any kayaker. It is designed to keep the wearer afloat in the event of capsizing or other emergencies. PFDs come in various styles, including inflatable and foam-based, and should be worn at all times while on the water. They also have pockets, hooks, and other features that allow many other uses and are overall very practical.
2. Helmet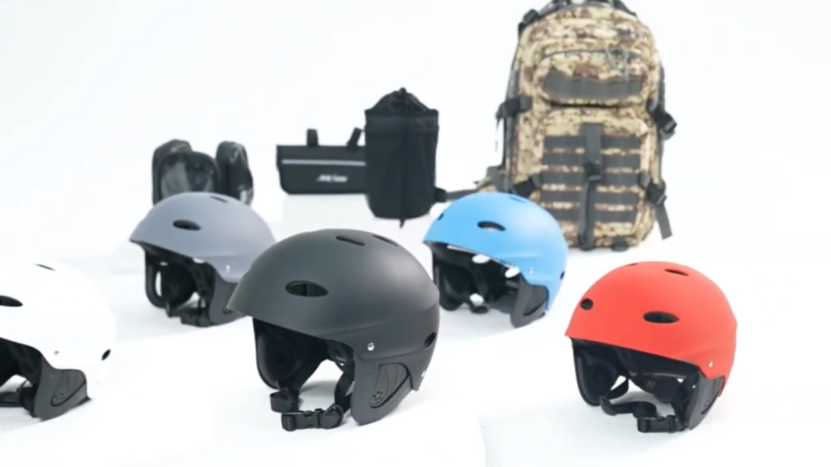 A no-brainer really and something that is certainly a must, helmets can protect the head from impacts and are especially important for kayakers who are participating in whitewater or other high-impact activities. If you are an adrenaline junkie and enjoy taking on the rapids, do not leave the home without a helmet.
3. Dry Suit / Wetsuit
As mentioned above, a dry suit or wetsuit is of extreme importance, albeit often forgotten as a crucial piece of gear. It can help to keep a kayaker warm and protect them from the elements in colder water.
4. Spray Skirt
A spray skirt is a piece of waterproof fabric that fits over the top of a kayak cockpit or the legs and the waist of the paddler and helps to keep the kayaker dry. It is especially useful in rough or choppy conditions. Many kayaks come with one but it is also possible to buy it separately too.
5. First Aid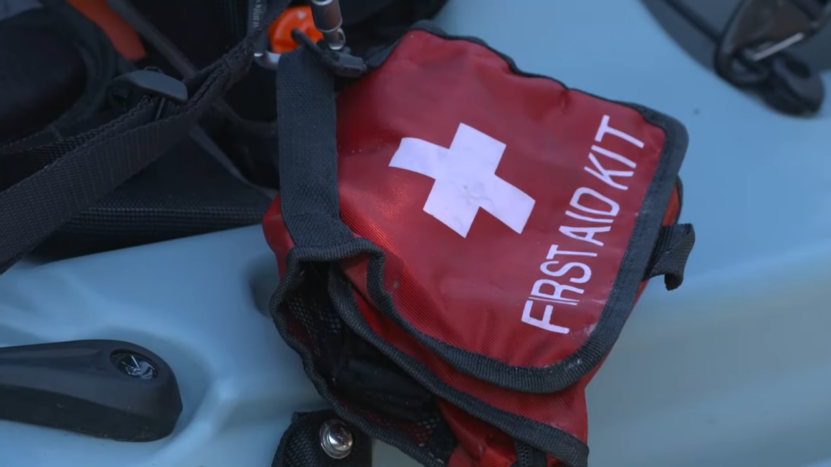 A first aid kit should be carried on any kayaking trip and should include basic items such as bandages, gauze, and antiseptic wipes. Keeping it in a waterproof bag is a good idea.
6. Dry Clothes
For obvious reasons, it is important to have a dry set of clothing to change into after an emergency where you may find yourself overboard. It is important for kayakers to be prepared for any eventuality and to have some spare clothes to get warm again.
About Wetsuits / Buyer's Guide
A wetsuit is a garment made of neoprene, a synthetic rubber material worn by surfers, divers, and other water sports enthusiasts to keep warm in cold water. Naturally, it is a great aid for kayakers because most of the time, small rivers, streams, and whitewater are very cold year-round.
The suit works by trapping a thin layer of water between the skin and the wetsuit, which the body then warms up. This warmed water acts as an insulator, helping to keep the body warm even in cold water.
Wetsuits come in a variety of different styles and thickness options, depending on the intended use and water temperature. Thicker wetsuits, those that are typically 5 mm or more, are designed for use in colder water and provide more insulation. If you plan to hit the coldest of waters, aim for these.
On the other side are thinner wetsuits, usually 3 mm or less, which are better suited for warmer waters and allow for more flexibility and mobility. These are generally used even when the water is not unbearably cold simply for more comfort and protection.
Wetsuits also come in different styles, including full suits, spring suits, and the so-called shorties, which cover different parts of the body. Full suits cover the entire body, including the arms and legs, and are typically worn in colder water.
They also cover the feet and have soles. Spring suits cover the torso and have short sleeves and shorts, and are often worn in warmer water. Spring suits can also come in the form of suspenders where the shoulders and arms are exposed. Finally, shorties are similar to spring suits but only cover the upper body, and are typically worn in very warm water.
In addition to keeping the body warm, wetsuits also provide protection from the sun, sea lice, and other marine life. They are also helpful in providing buoyancy, which can be especially useful for divers and snorkelers. Of course, they also prevent smaller bruising and scratching that can happen if you ever find yourself in the water surrounded by debris or rocks. Overall, wetsuits are an essential piece of equipment for anyone participating in water sports or activities in cold waters.
10 Best Suits Available / Product Reviews
These are some of the best wetsuits for kayakers that are sure to make your paddling sessions more enjoyable and comfortable.
1. Hevto Wetsuit 3 mm (Guardian (I) Warrior)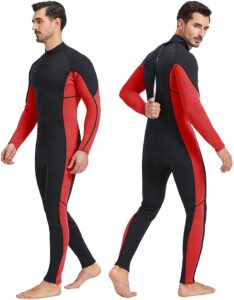 One of the most popular wetsuits around by a trusty brand and of high quality deserves the number one spot for many reasons. It is a full-body model that is 3 millimeters thick. There is a rear entry zipper which means a tighter grip. The suit is made of neoprene and two nylon layers and will keep you warm in waters that are anywhere from 50 to 67 degrees Fahrenheit.
The black and red color is attractive and pairs well with many kayaks. Since it is a scuba diving suit, it is suitable for just about any water sport including kayaking. Stretchy and comfortable, it is not at all restricting despite covering the entire body. If you plan to kayak in moderately cold water and do not need the full 5 mm thickness, look no further.
Pros
A balance of stretchy and comfy
Not restricting
Nice temperature range
Good value for the money
Cons
Sizes are not that clear
Not for very cold water
No reinforcement pads
2. Stohlquist Storm John

The long-John cut has many benefits when applied to the wetsuit, and this one by Stohlquist is a clear example. It has a front entry zipper that also acts as a relief zipper, always a plus on something as tight and protective, which is an instant plus. It is 3 mm thick and fully neoprene. Since it does not cover the arms, there is more room around the armpit area and the shoulders for a free and unrestricted paddling experience.
Unlike the previous suit on the list, this one has reinforced knee pads as well as the backside for some extra protection and comfort in a rough spot. The biggest downside of this suit and the entire brand is the price. It is not the friendliest in terms of budget and therefore a high-end choice. Still, it is more than worth it.
Pros
SupraTex knee and back padding
Zipper relief
No restriction on the arms
Cons
Sizing difficulties reported
Very pricey
Not for very cold water
3. NeoSport 7 mm Waterman Winter John

This is the first time we are talking about a suit that is thicker than 5 mm in this entire article, which is one of the reasons why it is on this list. For the very cold waters and maximum warmth, how about this 7 mm thick long-John style wetsuit by NeoSport? No arm coverage? No problem, you will still be very safe and sound inside it. There is a paddling jacket available too, should you be ready to spend extra.
If you are a fan of knee pads, this suit has some of the best out there. They are even thermal-bonded. The suit has a front-entry Velcro closure system instead of a zipper, strange but welcome. Also, there is an internal pocket. Overall, this is a good, well-balanced suit with some fun and interesting features.
Pros
Very good protection with 7 mm
Thermal knee pads
Velcro instead of zippers
Internal key pocket
Cons
Jacket sold separately (needed for maximum protection in frigid waters)
Flatlock seams can irritate bare sk
4. NEoSport Women's Premium 3 mm Jane

We cannot and must not forget about the ladies! The previous three suits were all meant for the guys first, but this one is different. Similar to the previous one, it is entirely sleeveless. It is made of neoprene and nothing else and it is 3 mm thick. Again, there is a matching jacket available extra.
Major stress points have taped intersecting seams, knee pads are thermal-bonded, and there is a hidden pocket as well as a collar that adjusts easily. Velcro is there too. For the female kayaker in your life, this is the best possible suit designed specifically for women.
Pros
Made for the ladies
Thermal-bonded knee pads
Hidden key pocket
Front Velcro for easy access
Cons
Thinner at only 3 mm
Jacket sells separately
5. Seavenger Navigator Shorty

We had to include a shorty on the list because not all suits are meant for the coldest of waters and require full-body coverage. This model is first of all very affordable and has short sleeves and shorts. The 3-millimeter-thick fabric is a combination of neoprene and nylon, definitely meant for spring and summer use in moderately cold waters and warm weather. They bare the name spring-suit for a reason!
The black and light blue design is attractive and very sleek. Durable and strong, it also has shoulder pads for some extra protection. It is not restrictive at all despite covering the entire shoulders and the armpit areas. It is super stretchy around here however and allows great paddling mobility without any pressure or irritation. The entry zipper is located in the back and has a long pull tab.
Pros
Anti-abrasion shoulder pads
Very stretchy around the shoulders
Budget-friendly and affordable
Cons
Rear entry is tricky for the shorty model
Limited to pleasant, warm conditions
Wetsuits and Kayaking / Reasoning for Purchasing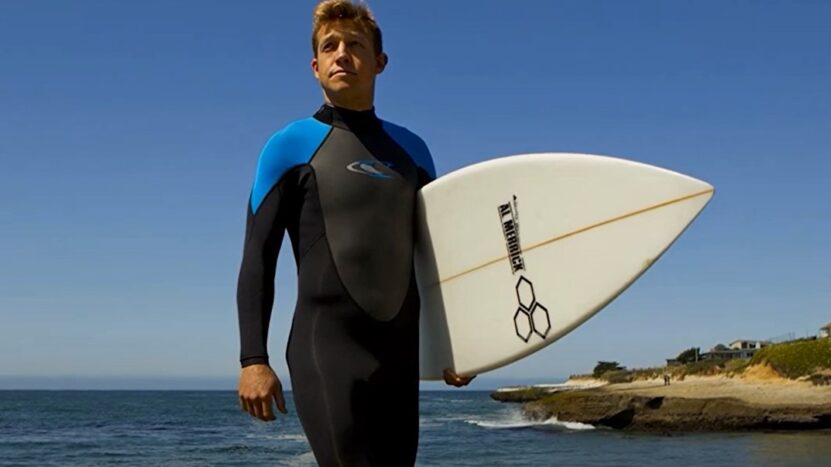 While not exactly a law or a rule, kayakers may wear wetsuits depending on the water temperature and the type of kayaking they are doing. It is definitely a recommendation and a crucial part of the gear you get when you book a kayaking tour. Safety is always prevalent so why not use it?
In colder water, a wetsuit can help to keep a kayaker warm and prevent hypothermia. In these cases, a full or spring suit may be appropriate, depending on the water temperature and the kayaker's personal preference.
In warmer water, a wetsuit may not be necessary for warmth, but it can still be worn for protection under the PFD and as an additional layer to stay safe from the sun and other environmental factors, as well as for added buoyancy. In these cases, a shorty or a rash guard (a type of shirt made of a stretchy, quick-drying material) may be more than sufficient.
There are also some minor downsides to wetsuits that need to be mentioned. It is important to note that wetsuits can restrict movement and make it more difficult to paddle, so kayakers should consider their own comfort and ability level when deciding whether or not to wear a wetsuit. It may be a good idea to check the water temperature and weather conditions before heading out on the water, and to dress appropriately to stay safe and comfortable. It takes some getting used to, but they are ultimately a very useful thing to have.